2021
Lina Sagaral Reyes, Eco-Business
The Philippines' biggest tobacco company channeled its Covid-19 aid through several lawmakers in Congress who proposed industry-friendly rules for novel tobacco products in the country, checks by Eco-Business have found.
The industry-friendly bill proposed by these lawmakers could undermine recent tobacco control efforts in the country, and create conducive conditions for PMFTC—the only supplier of heated tobacco products in the Philippines—to expand its market reach at the expense of public health, say anti-tobacco advocates.
PMFTC is the Philippine affiliate of tobacco giant Philip Morris International, which has about 70 per cent market share in the country. A joint venture with the Fortune Tobacco Corp, PMFTC's brands in the Philippine market include Marlboro and Fortune. Fortune Tobacco is owned by Filipino businessman Lucio Tan's LT Group.
Donations of face masks, temperature scanners and other equipment by firms such as PMFTC and JTI (Japan Tobacco International) during the Covid-19 pandemic have raised alarm among public health advocates in the Philippines. According to them, it is a clear violation of a World Health Organisation (WHO) framework that mandates a ban on tobacco advertising, promotion and sponsorship.
Laws governing emerging tobacco products—heated tobacco products and e-cigarettes—are the new frontier for tobacco firms tussling for influence in countries across the world, including the Philippines. The companies claim these products contain less harmful chemicals than conventional cigarettes, but the WHO, which has called the industry's tactics "aggressive", disagrees.
Heated tobacco products do not help smokers to end tobacco use, and there is no evidence that they are less harmful than conventional tobacco products, the WHO has said. Tobacco use is already responsible for more than 8 million deaths worldwide annually.
Novel tobacco products are challenging regulators worldwide and some countries, such as Brunei, Singapore and Thailand, have responded with outright bans. Others, such as Japan and China, have allowed the products, while some countries have yet to spell out clear rules.
Covid-19 donations coincide with house hearings
In the Philippines, donations by PMFTC that involved Congress representatives coincided with various House hearings and meetings last year that discussed laws to govern non-combustible nicotine delivery systems.
On 27 August last year, the House's joint committees on Trade and Industry and Health approved a substitute bill regulating the manufacture, sale, distribution, and use of electronic cigarettes and heated tobacco products (HTPs). This opened the door for PMFTC's sale of its IQOS heated tobacco product, the first and only one available in the country. The first of four IQOS stores opened eight days after the bill—which was drafted by a technical working group—was approved. But as early as April last year, PMFTC was already marketing its heated tobacco sticks, called Heets, in five flavours in retail stores.
Approval of the bill, also known as the proposed "Non Combustible Nicotine Delivery System Regulation Act of 2020", by the House's joint committees was rushed, tobacco control advocates highlighted. It took place during a virtual session and was not even on the Congress' official calendar. The proceedings were held behind closed doors, which meant the public was not privy to deliberations.
Eco-Business understands from sources that the following Congress representatives were members of the technical working group or authors of the bill, or both: Teoderico Haresco (Aklan), Cheryll Deloso-Montalla (Zambales), Cyrille Abueg-Zaldivar (Palawan), Kristine Singson-Meehan (Ilocos Sur), Alfredo Garbin (Ako Bicol Partylist), and Rufus Redriguez (Cagayan de Oro).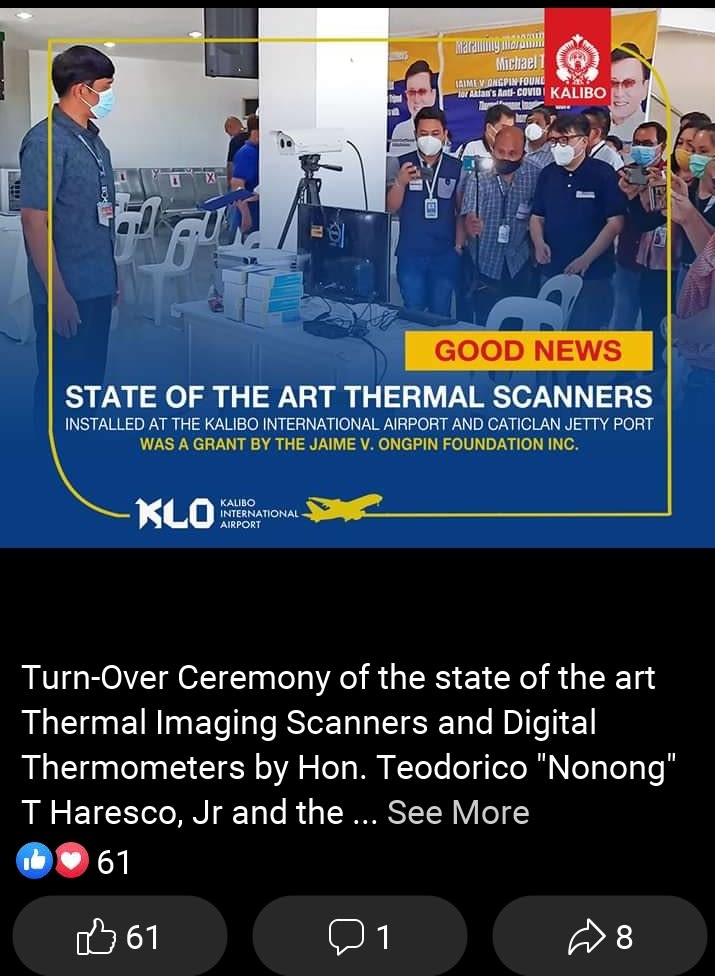 A survey of their Facebook posts between March and December last year showed that they were also involved in the distribution of thermal scanners, face shields, food and other items donated by PMFTC, LT Group or the Jaime V Ongpin Foundation (JVOFI), partner of PMFTC's local CSR programme called Embrace.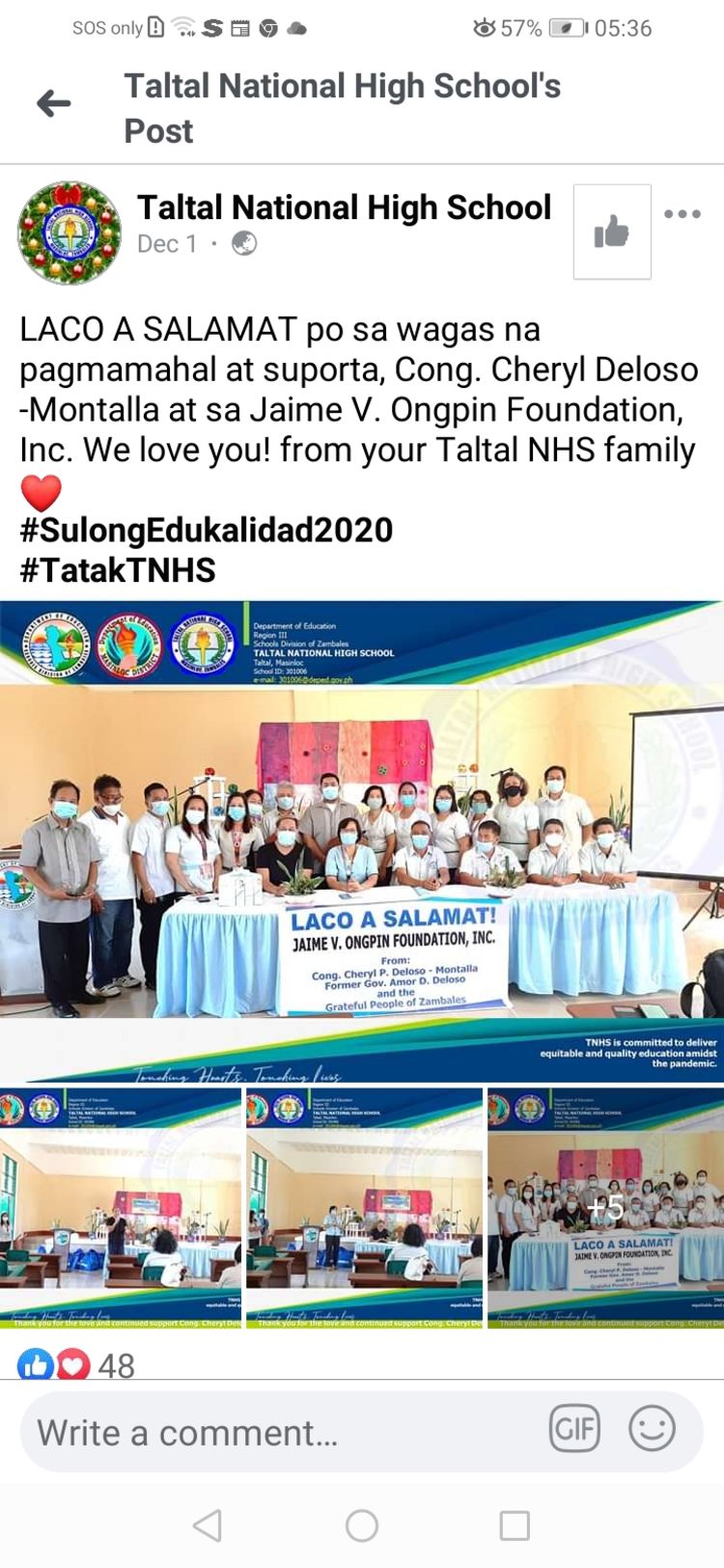 Chairman of the committee on trade and industry, Weslie Gatchalian (Valenzuela), also received a ventilator on behalf of Valenzuela City with his brothers, Rex, the city mayor and Win, a senator. Elizaldy Co (Ako Bikol Partylist of the committee on health also accepted donations for typhoon victims in Albay and Camarines Norte.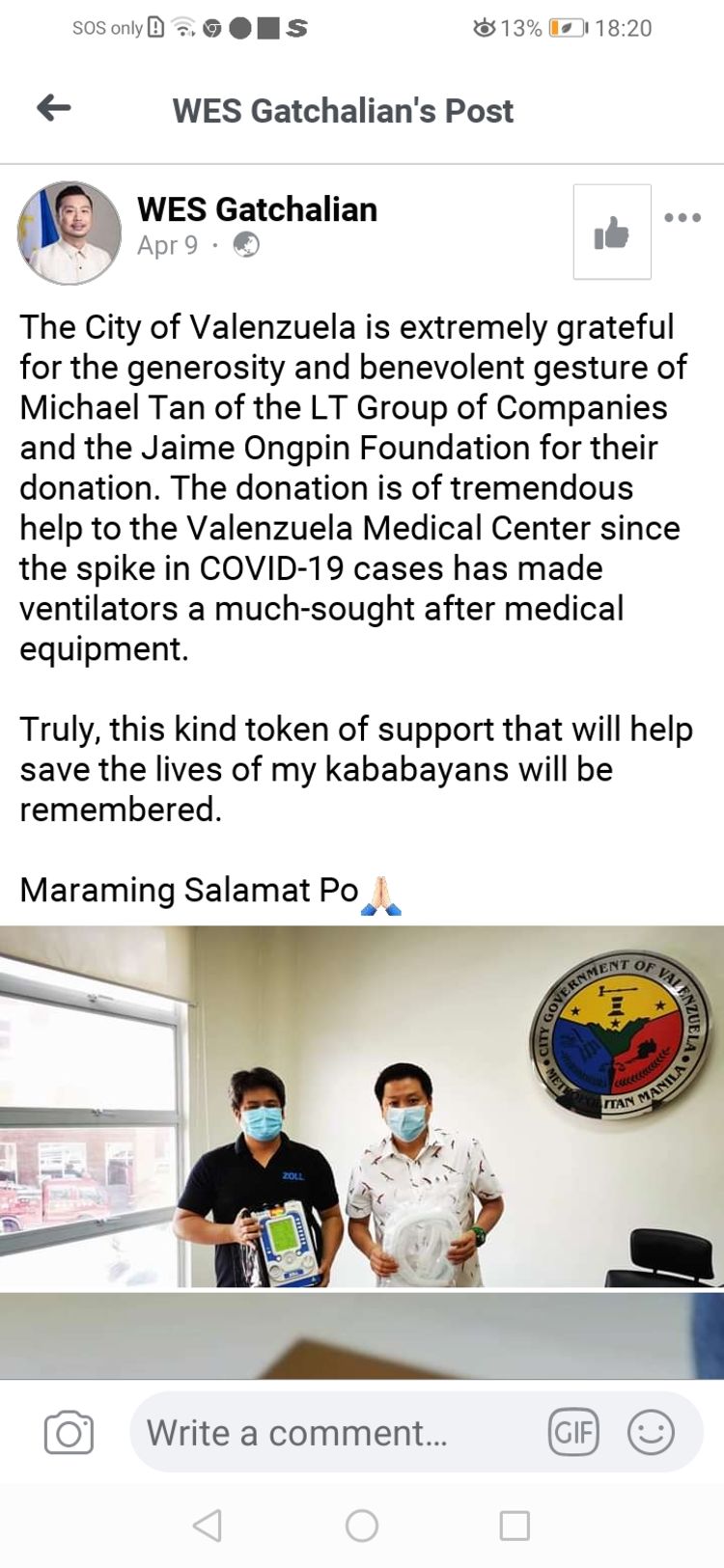 Other non-members of the two committees who were involved in the distribution of donations included Maria Lourdes Acosta-Alba (Bukidnon) and Xavier Jesus Romualdo (Camiguin).
Except for Acosta-Alba, the Congress representatives have not responded to Eco-Business' requests for comment. However, Rodriguez—considered the bill's most vocal proponent—said previously that the drafters of the proposed law need to consider factors such as revenue generation, jobs creation, and the interests of other stakeholders such as tobacco farmers.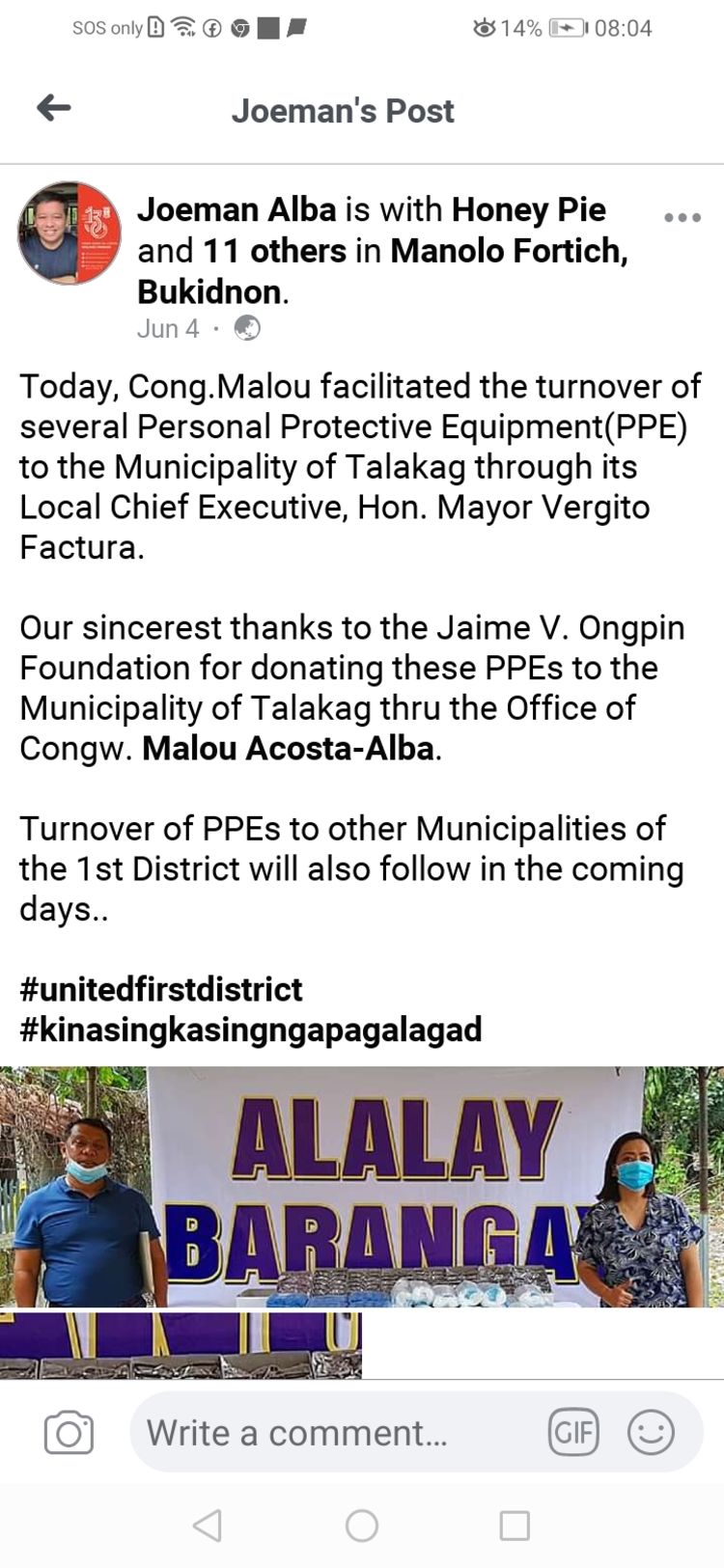 The nine other members of the technical working group are representatives Sharon Garin, Ciriaco Gato Jr, Rosanna Vergara, Jericho Nograles, Angelina "Helen" Tan, Robert Ace Barbers, Jose Enrique Garcia, Rozzano Rufino Biazon and Geraldine Roman. They did not appear to have partnered with JVOFI or PMFTC in recent months but Nograles and Barbers had partnerships with the tobacco giant in previous years. Vergara, Garcia and Tan opposed the bill, while Biazon did not vote because he is not a member of either committee, according to sources.
Vaping trick videos on mobile video sharing service TikTok are rampant, and local celebrities and social media influencers are used to promote e-cigarettes and heated tobacco products.
PMFTC and JVOFI have also not responded to requests for comment.
Setback for tobacco control
The bill will effectively cancel recent gains in tobacco control, said Ralph Emerson Degollacion, project manager at Filipino non-governmental organisation HealthJustice. From early 2020, excise taxes were to be increased until 2024 for alcohol and tobacco products including heated tobacco and vapourisers.
The sale of heated tobacco and vaping products to people below 21 years of age was prohibited, and flavours of the products were limited to only plain tobacco and plain menthol. The Philippines' Food and Drug Administration (FDA) was made the sole regulatory body for the products.
Under the new bill approved by the House's joint committees, heated tobacco products and e-cigarettes can be sold to those aged 18 and above, and an open-door policy for flavours is proposed. This is akin to formally "handing down the future generations as a ready market for these addiction-inducing products", said Ulysses Dorotheo, executive director of the Southeast Asia Tobacco Control Alliance (SEATCA).
These donation-giving partnerships underline the ties that bind between these politicians and the Big Tobacco in the Philippines.
In a report in May 2020, SEATCA had detailed how the tobacco industry was promoting e-cigarettes to youths using themes such as having fun, success and sensuality. "Vaping trick videos on mobile video sharing service TikTok are rampant, and local celebrities and social media influencers are used to promote e-cigarettes and heated tobacco products. These products are also marketed with thousands of youth-appealing fruity and candy flavors that reduce the perception of harm," it noted.
Dorotheo had warned that 213 million youths in Southeast Asia are at risk of being addicted to new tobacco products.
Degollacion also noted that under the bill, the Department of Trade and Industry will serve as the main administrator of heated tobacco and e-cigarette regulations, sidelining the FDA.
Who will look into the ties that bind?
Another thorny issue that Congress representatives' distribution of donations from tobacco firms has highlighted, is whether such conduct violates a joint memo by the Philippine Department of Health and Civil Service Commission. Guidelines bar public officials and employees from unnecessary interaction with the tobacco industry, and from accepting anything of monetary value from persons or entities linked to the industry.
But holding the politicians accountable could be a challenge. Although the joint memo was issued in 2010, "almost no one has come forward to complain against anyone breaching its prohibitions", said a high-ranking source from the Civil Service Commission who declined to be named.
In addition, the Civil Service Commission has no jurisdiction over the legislative and judicial branches of government, Dorotheo said. "My understanding is that all government officials and employees are covered (by the memo) but the (commission) does not have jurisdiction over elected officials and presidential appointees."
"These donation-giving partnerships underline the ties that bind between these politicians and the Big Tobacco in the Philippines,'' he added.
Acosta-Alba, the only Congress representative who responded to Eco-Business' queries, felt the joint memo only covers the executive branch of government. The Bukidnon representative said that she "solicited" donations for local government units as a "personal initiative", and not in her capacity as a legislator. She added that the items were sponsored by JVOFI and not PMFTC.
Congress has a House Committee on Ethics and Privileges which has jurisdiction over the duties, rights and conduct of representatives. It is presently chaired by Vergara, with Abueg-Zaldivar as one of two vice-chairs. Both Vergara, a member of the committee on health, and Abueg-Zaldivar, a member of the committee on trade and industry, voted at the committee level on the bill; the former thumbed down the bill while the latter was in favour. Vergara has not responded to requests for comment on whether the committee will look into the conduct of the representatives if a complaint is filed.
Tobacco control advocates also under scrutiny
In a twist of events, tobacco control advocacy groups are now under scrutiny for alleged attempts to influence regulatory policies in the Philippines through their funding of the FDA.
In December last year, Congress representatives Estrella Suansing (Nueva Ecija) and Deogracias Savellano (Ilocos Sur) filed a resolution calling for an investigation into funds given by foreign private groups such as The Union and Bloomberg Initiative to the FDA and other government agencies. The Union and Bloomberg Initiative are against all forms of tobacco products and the resolution argues that such funding, in return for "predefined policies", infringes on the rights of consumers.
Savellano told the media that the acceptance of foreign grants could be unconstitutional as it infringes on the sovereignty of the agency. He added that interest and consumer groups had complained that the FDA regulatory framework disenfranchises vaping manufacturers and disregards consumers rights. Both Suansing and Savellano represent districts in the country's top tobacco-growing region.
Amid the brouhaha, the FDA issued a statement on 7 January reiterating its commitment to protect and promote Filipinos' right to health, including through the regulation of vaping and heated tobacco products. It is legal for the FDA to accept grants, donations, and other endowments from local and external sources to enhance its regulatory capacity, and no money was received by individual FDA officers, it said.
Public consultation on the heated tobacco and e-cigarettes regulations have been temporarily halted.
The bill is set to be read a second time, and amendments could still be made. After its fourth reading, it will be presented to the Senate before ultimately landing before the president for final approval.
Errata:
This article was amended on 4 February 2021 to reflect changes in paragraphs 14 and 15, particularly naming Ma. Lourdes Acosta-Alba and Xavier Jesus Romualdo as non-members (instead of members) of the House's joint committees on Trade and Industry and Health.