November 20, 2020
Author: Raisa Santos
The tobacco industry has been exploiting the COVID-19 pandemic and resulting health sector resource shortages to gain a stronger foothold in the policy corridors of many national governments – making huge donations of PPE and other desperately needed goods, new research has shown.
The Global Tobacco Industry Interference Index 2020, released by STOP (Stopping Tobacco Organizations and Products) on Tuesday, a global tobacco industry watchdog, scores some 57 countries around the world for their policy performance vis a vis the tobacco industry.
Key findings reveal that the tobacco industry used endorsement of charitable contributions to capitalize on the vulnerability of governments facing a shortage of resources during the COVID-19 pandemic, including donations of free PPE in Bangladesh, artificial respirators in Costa Rica, sanitizer in Kenya and Indonesia.
But those donations often came at a price – for instance in Indonesia the company also asked the local government of Bali to roll back restrictions on outdoor tobacco advertising.
All in all, the report found that the worst performing countries were: Japan, Indonesia, and Zambia, with  high levels of industry interference in government policies. The South-East Asian country of Brunei Darussalam, as well as France, and Uganda ranked the best.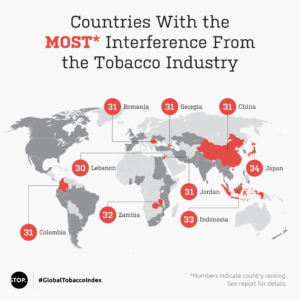 "The coronavirus pandemic has given the industry an opportunity to knock on doors and offer immediate donations in exchange for favors down the road. Ultimately, citizens pay a price for their governments accepting tobacco industry donations: more harm, death and disease from tobacco products," said Jorge Alday, director at the New York City-based global health non-profit Vital Strategies, and a partner in STOP, an initiative supported by Bloomberg Philanthropies.
 Big Tobacco Working To Hook New Users In Pandemic Times
The new index covers countries in Africa, the Eastern Mediterranean region, Latin and North America, Europe, South and Southeast Asia, and the Western Pacific region. This is compared to just 33 countries reviewed in the first index, published in 2019.
Countries were ranked on a scale of 0 to 100, with a lower score indicating a lower overall level of interference from the tobacco industry. The Index found that lack of transparency in interactions with the tobacco industry, government endorsement of tobacco-related charity, industry targeting of non-health sectors to derail tobacco control measures and conflict of interests are the main problems globally.
"Even as more countries adopt comprehensive tobacco control, the tobacco industry is working to undermine government efforts in order to hook new users and push new products," says Kelly Henning, director of public health programs at Bloomberg Philanthropies. "They have even gone so far as to try and take advantage of the COVID-19 pandemic, when countries are desperate for resources."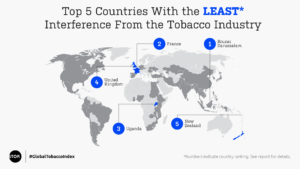 Though the tobacco industry is responsible for more than 8 million deaths annually worldwide, it has never taken responsibility for the disease and deaths its products cause, and has even framed itself as being "part of the solution" to the COVID-19 pandemic, the report states.
Although Big Tobacco aggressively targets low- and middle-income countries (LMICs) with larger populations and weaker regulations, high-income countries are also susceptible to industry interference. For instance, the UK, which scored the highest ranking in 2019, slipped to fourth place as a result of connections between industry and government ministers that have since taken office, as well as increased industry participation in government consultations.
COVID-19 Exploitation by Tobacco Industry to Gain Favor for Policy Changes
The report provides numerous examples of such exploitation, including:
Bangladesh. British American Tobacco (BAT) Bangladesh provided PPE to public hospitals, and the Ministry of Industries wrote to various agencies asking them to cooperate with both BAT and Japan Tobacco International during the COVID-19 shutdown.
Costa Rica. Philip Morris International donated artificial respirators to hospitals. The company launched its heated tobacco product (HTP) IQOS product in the country this year.
Kenya. BAT Kenya contributed 300,000 liters of sanitizer to government agencies. Tobacco was then listed as an "essential product" during the pandemic.
Indonesia. PMI's local subsidiary, PT HM Sampoerna Tbk, used donations of sanitizer, PPE, and other goods for marketing and media coverage. The company also requested policy changes, such as asking the local government of Bali to roll back restrictions on outdoor tobacco advertising.
The tobacco industry has also intensified lobbying to enable government acceptance and industry promotion of new e-cigarettes and other "heated" tobacco products. Philip Morris International lobbied for the promotion and sale of its HTP, IQOS, in at least 12 countries which resulted in the government reversing a previous ban on HTPs. The government also allowed the sale of HTPs after Philip Morris International threatened to withdraw operations, and lowered levels of taxation on HTPs compared to cigarettes.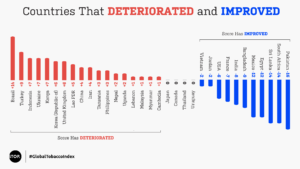 India and South Africa Banned Some Tobacco Sales in Pandemic
On the plus side, governments such as India banned the sale of smokeless tobacco products, like chewing tobacco which is often spat onto the street. South Africa went a step further and banned the sale of cigarettes entirely between March and August, as did three municipalities in the Philippines. Mexico prohibited the sale of e-cigarettes, while the USA listed vape, smoking, and cigar shops as non-essential businesses that must close.
Civil society can expose and counter industry interference, but it is in the hands of governments to halt it altogether. They need to implement the recommendations in the report.
In its report, STOP advised the following measures governments can take to identify and prevent tobacco industry interference, including: preventing tobacco industry participation in policymaking, avoiding unnecessary interactions with the industry and ensuring transparency of meetings that do occur, and removing benefits and incentives for the industry.
"The message to governments is do not take the bait when it comes to industry offers," said Mary Assunta, a partner in STOP and Head of Global Research and Advocacy at the Global Centre for Good Governance in Tobacco Control (GGTC). "With tobacco, there are always strings attached and ultimately the cost is paid in human lives."
She added: "Governments can hold tobacco companies liable for the harm they cause instead, offering a win-win for the economy and health that is especially important during the coronavirus pandemic."