By Mary Assunta
The transnational tobacco companies (TTC) are running a global marketing campaign pushing their heated tobacco products as safer alternatives to smoking and reframing their image to belong to the harm reduction family. Philip Morris International (PMI) launched its heated tobacco product, IQOS and claims to be going "smoke-free", confusing and confounding the public health community. But the TTC continue to sell their regular cigarettes and oppose tobacco control measures, undermining government efforts.
While governments were meeting at the CICG in Geneva, between 1–6 October for the eighth session of the FCTC Conference of the Parties (COP8), a PMI funded report 'Global state of tobacco harm reduction' was launched in a hotel nearby (photo). The 130-page report is published by a London based group, Knowledge-Action-Change and acknowledges it is funded by the Foundation for Smoke-free World, but does not indicate that the FSFW is fully funded by PMI. The report's silence on FSFW's funding from PMI is to enhance its credibility.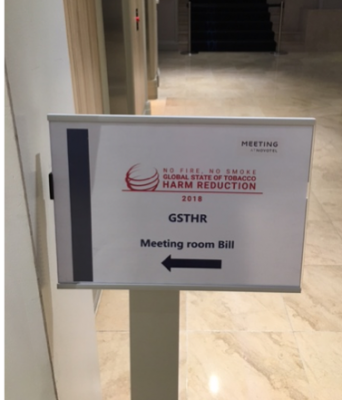 It was a carefully timed launch to elicit attention and lure some delegates to hear views on harm reduction while the COP deliberated on electronic cigarettes, novel and emerging tobacco products and how to curb tobacco industry interference.
One of the 'key informant' who contributed to the report is Jeannie Cameron, a former BAT executive who now runs her own consultancy, JCIC International, and continues to maintain a strong pro-tobacco industry position.  According to TobaccoTactics, since her employment at BAT ended, Cameron has participated in tobacco industry conferences and events in her role as Managing Director of JCIC International. From 2010 to 2015 she was a regular panellist and speaker at the Global Tobacco Networking Forum (now called the Global Tobacco and Nicotine Forum), an international gathering of tobacco industry executives and supporters.
Another contributor to the report, Colin Mendelsohn, a strong e-cigarettes proponent, who is lobbying to overturn the ban on vaping nicotine without a doctor's prescription in Australia was recently exposed that his organisation, ATHRA, is funded by the vaping industry.
Head of the FCTC Secretariat, Dr Vera Luiza da Costa e Silva in her key note address at COP8 said, "New emerging products are flooding our streets and our shops, and their aggressive marketing techniques have taken many governments by surprise, cleverly using loopholes in existing legislations. Parties should expedite implementation of article 5.3 Guidelines and ensure that its applicable to all commercial and vested interests of the tobacco industry, including addressing unproven claims of harm reduction."
The COP adopted a decision on novel and emerging tobacco products, such as heated tobacco products, which included the following clauses:
to prevent the initiation of novel and emerging tobacco products;
to prevent health claims from being made about novel and emerging tobacco products;
to apply measures regarding advertising, promotion and sponsorship of novel and emerging tobacco products in accordance with Article 13 of the WHO FCTC;
to protect tobacco-control policies and activities from all commercial and other vested interests related to novel and emerging tobacco products, including interests of the tobacco industry, in accordance with Article 5.3 of the WHO FCTC;
This decision will help countries currently in the process of drawing up their legislation on these novel products. In June this year, the government of the Republic of Korea announced heated tobacco products will require pictorial health warnings on them, to come into effect on 23 December, six months after the official announcement. The government's plan is to dispel the notion that such products are less harmful and therefore should remain exempt from stringent health policy.
In October, Philip Morris Korea Inc. filed a lawsuit against the Korean government, demanding the disclosure of information on a test that concluded electronic cigarettes contain harmful substances. Korea's Ministry of Food and Drug Safety had claimed cancer-causing substances were found in the heated smoking devices, and the level of tar discovered in two products, including PMI's iQOS, exceeded that of regular cigarettes.
The FSFW is a US$80 million a year initiative (US$960million over 12 years) funded by PMI to promote harm reduction. While PMI claims to be promoting "a smoke-free world" it however continues to spend billions marketing and selling its regular cigarettes and fighting legislation to reduce tobacco use (see here).
For further information:
FCTC/COP8(22): Novel and emerging tobacco products; http://www.who.int/fctc/cop/sessions/cop8/FCTC_COP8(22).pdf
Ministry of Health template letter re tobacco industry-funded research and "Foundation for a Smoke-Free World; https://ggtc.world/2018/08/17/templates/
GGTC: Countering the Foundation for a Smoke-Free World (FSFW); https://ggtc.world/dmdocuments/GGTC-Brief-No3-FSFW.pdf