Dr. Sheila Ndyanabangi, Former Head of Delegation from Uganda
A respected voice for all Africa during COP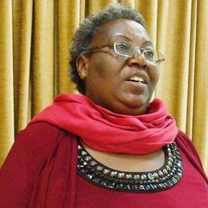 A staunch tobacco control Ministry of Health official lost to cancer.
The painful news came on August 25, 2018, a little more than a month short of the WHO FCTC Conference of the Parties (COP). COP observers and delegates from all over the world expressed their shock and grief in various fora as news of her death came. Public health advocates from around the world have called this a big loss for the continent and the international tobacco control community Those from Nepal, India, S. Africa, France, Nigeria, Cameroon, Togo, Kenya, Niger, Tanzania, DRC, Benin, Algeria, Burkina Faso, Ghana, Mali Namibia, Botswana, Ethiopia, Guinea Thailand, Canada, USA, Australia, UK, Mauritania and many other countries have interesting descriptions for her: Colossus, progressive, persuasive, dependable, bold, articulate, tireless, fierce when it comes to fighting tobacco industry interference. Dr. Sheila is a constant presence at the WHO FCTC Conference of the Parties (COP) and other meetings of subsidiary bodies of the COP. Those who have not met her but have attended the COPs would remember at least one instance of a wild applause after a powerful intervention by a lady from the AFRO region. She was the constant voice of reason that would relentlessly bring people back to focus in Committee A when the debate had become seemingly senseless. She is the conscientious voice that would remind us of the bigger picture, the humongous tobacco industry that needs to be fought in order to protect the billions of lives that needs to be saved. Just a few months ago in March, she was speaking like a warrior with a commanding outcry against tobacco industry interference at the plenary of the 17
th
WCTOH in Cape Town; this is how she summed it, "
We can make the tobacco industry run, we can intimidate them, we should not fear them because we have the truth, they have deception."
To the vast majority of tobacco control advocates in Africa, she was a mentor, a mother, and a friend. In the past COPs, AFRO has been known to champion the objectives of the FCTC, especially in terms of strong positions on countering tobacco industry interference, in large part because Dr. Sheila was there to provide the quiet support as well as the strong voice, as needed for the occasion. Will her spirit continue to live in the AFRO region for the upcoming COPs? As some of her colleagues put it:
The best way to remember her is to double our efforts in championing what she stood for.
Contributed by
Deborah Sy Head, Global Public Policy and Strategy Global Center for Good Governance in Tobacco Control
This write up was based on the feedback from countless messages shared around in networks of tobacco control advocates. But it must be said that I was fortunate enough to witness her brand of passion and leadership at a meeting to convince the Public Service office of Uganda to consider options to implementing Article 5.3. I can attest to the fact that she was indeed all that was described of her and more.